Stores
At Florida 1 Park you can enjoy and relax with a variety of activities such as shopping, food and coffee, while at the same time you can have fun with activities that will bring joy to both children and adults.
All stores
Services
Florida 1 Park offers services that will turn your shopping and entertainment into a unique experience. Comfortable and free parking with easy access to people with disabilities, bus and taxi station for your arrival and departure from the retail park.
All services

Retail

Cafe | Bars

Restaurants | Fast Food

ATMs

Free Parking

People with disabilities

Bus Station

Taxi Station

Charging Station for Electric Cars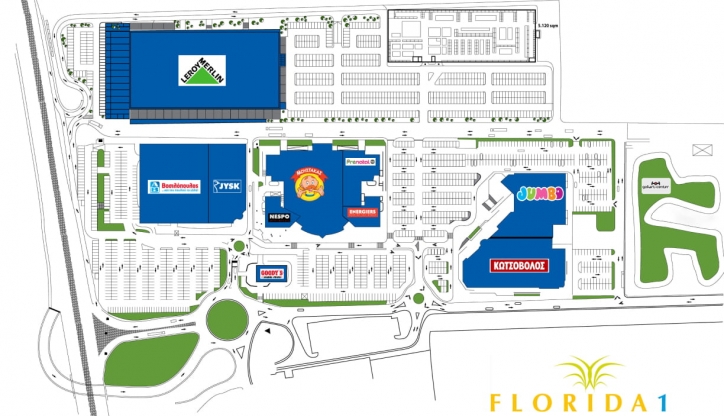 The Park
Florida 1 is one of the largest retail parks in Greece today consisted of 5 independent building/boxes expanded in an area over 100,000 sqm. The Retail Park is located in Georgikis Scholis Ave.69, in the municipality of Pylaia, only 10 km away from the centre of Thessaloniki, and just 4 km from °Macedonia International AirportĘ.
PUBLIC TRANSPORT
From the center of Thessaloniki:
Bus Lines 2 and 3 | IKEA Station
Bus Lines 10 and 31 from Terminal Voulgari and then board on Bus 36 | East Station IKEA
From the Macedonia Bus Station:
Bus Line 01X | Shopping Center Station
Bus Line 1N (Night Service) | Shopping Center Station
From the airport:
Bus Line 1N (Night Service) | Shopping Center Station
Bus Line 79 | East Station IKEA
CAR or TAXI
Center of Thessaloniki:
Via Megalou Alexandrou Avenue (10 km)
Via Konstantinos Karamanlis Avenue and P.D. Thessalonikis N. Moudania / A24 (10 km)
Airport of Macedonia:
Via Georgikis Scholis Avenue (2.5 km)
*On your way back from the retail park, if you do not have your own vehicle, you can take a taxi from the taxi station just 500 meters from the retail park.